07:30-08:00 Our tour guide pick you up at your hotel in Hanoi Old Quarter After one hour on highway, you have a short-break in 20 minute.
10:00 Arrive Hoa Lu Ancient Capital, One ancient capital of Vietnam dating back to the11thcentury.Visitors can see temples   built in honor of the emperors DinhTien Hoang and Le Dai Hanh their sons, and Queen Duong Van Nga, who was married first to DinhTien Hoang and then to Le Dai Hanh
11:30  Cycling to Bich Dong pagoda;Bich Dong pagoda is complex of three pagoda, the Lower pagoda is located at the base, from which 100 steps lead to the Middle pagoda, where there's a shorter but steep ascent to the Upper pagoda, inside each cave temple, looming statues peer from the haze of burning incens ride along country lane to enjoy beautiful scenery of limestone mountains, through small villages with backdrop of agricultural lifestyle.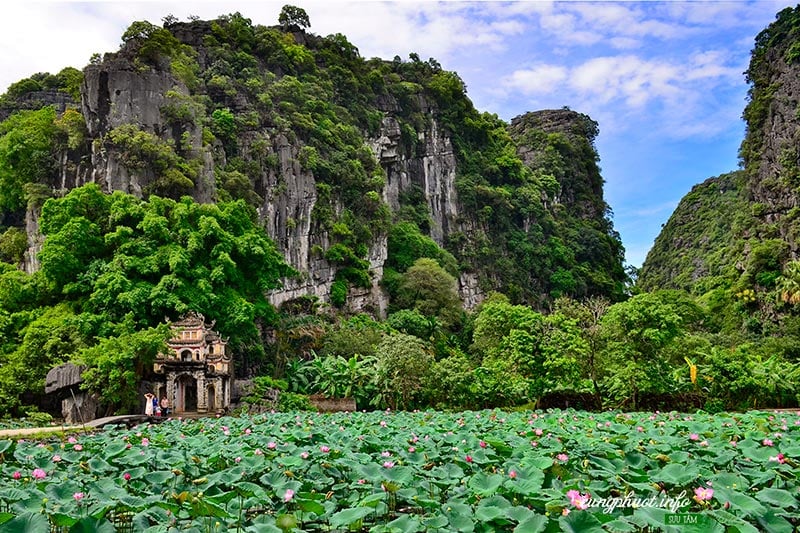 12:30 Cycling back to restaurant .Have lunch at local restaurant, an excellence place to taste Vietnamese cuisine. Let's enjoy let's enjoy localities goat meat dishes with goat meat
14:00 Depart to the most popular attraction to visit in NinhBinh – Tam Coc and enjoy 2 hour on rowing boat to trip to visit cave complex, see the beauty of the Karst formations as you pass along their base you will row into one of many caves carved through the limestone, ricefields
16:30 Get back to local house, during 30 munite You will join Vietnamese folk music show with the participation of talented artists performing with "dan bau" (monochord),  "dan nhi" (2-string zither), "dan day" (plucked lute), flute.  you know more about the spiritual life of  Vietnamese. You also have chance enjoy sunsetparty with green tea and some traditional candy
17:00 Driver pick you up  and return to Hanoi.
19:30  Drop off at your hotel. Service ends